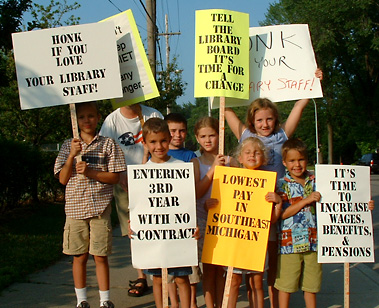 "I was sitting beside the librarians and library staff who filled the first three rows. They were dressed in black and wore their pink "3rd Year – No Contract" pins. And many of them wept as they heard – FINALLY – what they mean our community, how we value them. And theirs weren't the only wet eyes in that high school library. I saw a brand new School Board member, Ahmed Ishmael, wipe his eyes at one point. That's a good sign.

But we're not going to stop there. A number of folks read letters they've written to our local newspaper about this issue. We're supporting our local Michigan State Representative's bill that would give our community the option of electing its Library Board. We'll be out in full force at the next Library Board meeting on July 26 – watch out!!! – and we're going to continue picketing in front of the Central Branch every Thursday from 5-6:30 PM. I'll be there with the Raging Grannies this coming Thursday, singing songs I'm adapting from our solidarity pickets with the Border's workers in Ann Arbor last winter.

If you want to join us at any of these events and need more information, feel free to contact me, or email Kathleen (kathleengallagher AT wayne DOT edu), the Youth Services librarian at the Central Branch. We can use all the support we can get. "
I know that librarians in Ann Arbor have had struggles in the last few years. Can we foster some solidarity here?
« Previous Article Even More Couch Ban Info
Next Article Viva Graffiti! »