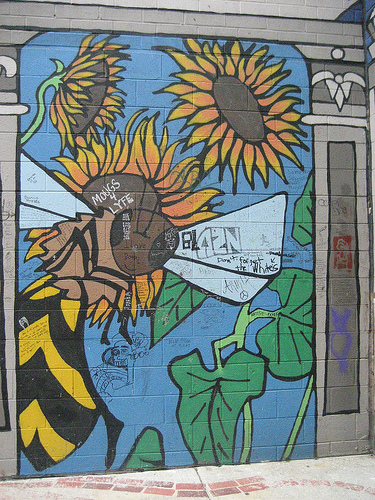 The Ann Arbor News reports that large parts of the mural "Infinite Possibilities", in the alley just west of the Michigan Theater, were painted over with white paint Sunday night. (A part of the mural is shown at right, under a Creative Commons license from Flickr user viscousplatypus.)
While various people quoted in the article call the whitewashing "disgusting", or, "not a good thing", the News quotes the mural's artist, Katherine Tombeau Cost, as saying that she never expected her art to last forever, and that she hopes the next artist finds a good use for her old venue.
Cost's comments are appropriate to the history of the alley – completed in 1999, her mural covered over the alley's previous life as a community canvas known (to this author) as Poet's Alley.
« Previous Article UM starts Semester in Detroit program
Next Article Uh-oh, Art Fair time »