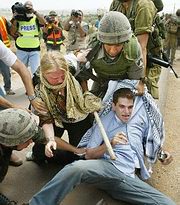 U-M grad and Palestinian rights activist Fadi Kiblawi was arrested by Israel Defense Forces "during a West Bank protest against the separation fence on Sunday," Haaretz reported.
Kiblawi has been living in East Jerusalem this summer traveling through his native land. Last week, Kiblawi photographed and documented occupying soldiers tear gas and open fire on Palestinians praying in the West Bank town of As Sawiya.
Writes Kiblawi,
"Then, the villagers, completely unarmed and impassioned from the destruction, faced the soldiers, who were standing on top of the field now. a small march began with chants of "Allahu Akbar" (God is Greatest). The first Israeli shots rang out, chaos ensued. Everybody scattered, I ducked behind a tree with another Palestinian man. Yelling, somebody was hit, he was quickly carried off by two other Palestinians to an ambulance on the perimeter…What happened over the next hour is a blur, as it was complete chaos. I recall looking in front of me to the left and right there were soldiers and looking to the left of me they encroached. Tear gas cannister fell in front of me, another to the left of me. At first I didn't feel anything and then all of a sudden my eyes began to burn, I couldn't breath and I remeber stumbling to the ground to get out of the suffocating cloud. I recall covering my eyes, stinging, with my hands and spitting in my struggles to breath, and just ran as hard as I could."
Kiblawi was the co-founder of Students Allied for Freedom and Equality, a member of the Michigan Daily's editorial board for a brief stint, and the Minority Affairs Chair in student government during his tenure at Michigan. He was also the organizer of the Divestment Conference in 2002. He is currently a law student at George Washington University.
« Previous Article U-M Email Blocking
Next Article U-M Library Data to Become More Searchable »